A Meadows Afternoon
May 21, 2021 @ 3:00 pm

-

5:00 pm
Join CMBO naturalists for this 2-hour afternoon walk around The Nature Conservancy's South Cape May Meadows property! Seasonally flooded ponds attract ducks and shorebirds, while beach nesters like Least Terns and American Oystercatchers will be back and busy
PREREGISTRATION REQUIRED (walk-ups will not be permitted).
SPOTTING SCOPES ARE HIGHLY RECOMMENDED FOR THIS TRIP
COST: $6 members, $10 nonmembers.
Interested in becoming a member? Please click on the following link to learn more or join: Become a Member today!
IMPORTANT INFORMATION: Due to our Covid-19 guidelines (see below), there will be no sharing of equipment including binoculars or spotting scopes. Binoculars WILL NOT be available for loan from the leaders. Thank you for your understanding.
We bird in all weather. Be sure to check the forecast in advance and dress in layers appropriate for prevailing weather conditions. The weather in Cape May can differ considerably from nearby inland areas and may be warmer, colder, or windier so it's best to be over prepared. We may have to bird in the rain, so please bring your rain gear.
NEW JERSEY AUDUBON'S PROGRAM GUIDELINES:
New Jersey Audubon field trips and programs adhere to CDC guidelines; leaders have the right to ask a participant to leave the program if someone is not adhering to these guidelines for the health and safety of all. Leaders and participants must wear face coverings* throughout the program and maintain social distancing (at least 6' of separation). Leaders may remove their face covering to be heard by the group while maintaining social distance. Please do not come to a program if you are sick, have a sick family member or have reason to believe you may have been exposed to the COVID-19 virus. There will be no sharing of equipment including binoculars or spotting scopes.
*Face coverings do not include winter scarves or bandanas. Two-layer fabric or surgical-type masks are required.
*** If you have spent time in a state that appears on New Jersey's Travel Advisories, we request that you do not attend the program and will provide a full refund. ***
TRANSPORTATION: We may walk up to 1.5 miles, over generally level, sometimes muddy or sandy terrain. Some trips involve walks over jetties.
ACCOMMODATIONS: For those of you traveling from further afield and looking for somewhere to stay, please take a look at our list of Business Supporters of the Cape May Bird Observatory below:
Cape May is a popular place, so we suggest making reservations as early as possible. Accommodations are the responsibility of participants and are not included in the price.
CANCELLATION: NJ Audubon's CMBO programs are virtually never cancelled. If we cancel, due to lack of participation, severe weather, or unforeseen circumstances, all participants will be notified as soon as possible and are eligible for a full refund. Participants may cancel without penalty if greater than 48 hours in advance. Sorry, no refund for cancellations less than 48 hours in advance unless due to health emergencies; however, registrations can be transferred to another program in the future.
We reserve the right to substitute leaders if necessary, though this rarely happens.
TICKETS MAY BE PURCHASED BELOW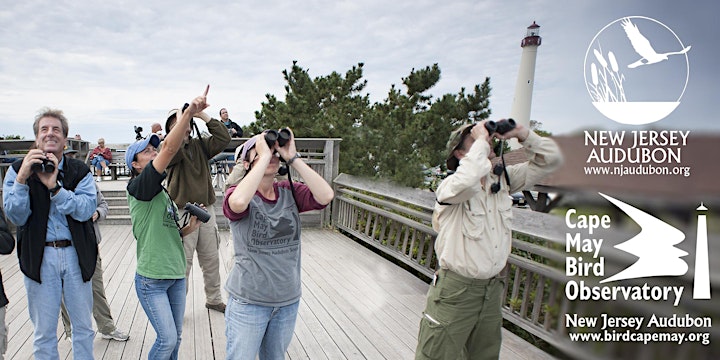 Related Events