Brigantine and Mott's Creek
November 26, 2022 @ 1:00 pm

-

5:00 pm
Join Mary Watkins and CMBO Naturalists to explore Edwin B. Forsythe NWR where ducks will be massing and raptors will be hunting! November is a great month to visit coastal South Jersey. Ducks and geese will be gathering on the back bays and saltmarshes and it's a great time of year to be looking for the raptors that this mass of birds attracts. Conversational flocks of Brant and Snow Geese and busy parties of Northern Pintail, Northern Shoveler, American Wigeon, Buffleheads and much more will vie for our attention as we hope for views of hunting Northern Harriers, Peregrines, Bald Eagles – maybe even a Golden Eagle. We will spend part of our time at Edwin B. Forsythe National Wildlife Refuge, Brigantine Division, where the managed impoundments provide ideal wintering habitat for wetland birds. After birding the refuge, we will head to nearby Mott's Creek, a regular – though not guaranteed – site for wintering Short-eared Owls and Rough-legged Hawks.
Entrance to the NWR is contingent upon purchase of a $4 Refuge Pass, or possession of a Golden Age Pass or Federal Duck Stamp is required for each vehicle. You may purchase a day pass at the site
We do not set a firm daily schedule in advance, leaving us flexible to maximize birding opportunities, taking advantage of weather conditions, tides, and recent bird sightings. We may walk up to 1.5 miles, over generally level, sometimes muddy or sandy terrain.
PREREGISTRATION REQUIRED
COST: $20 members, $26 nonmembers.
Interested in becoming a member? Please click on the following link to learn more or join: Become a Member today!
NEW JERSEY AUDUBON'S PROGRAM GUIDELINES: New Jersey counties are varied in their COVID-19 community transmission rates.  New Jersey Audubon highly recommends that anyone who is not fully vaccinated or who wants additional protection should consider wearing a mask and social distancing, especially indoors.  Please do not come to a program if you are sick, have a sick family member or have reason to believe you may have been exposed to the COVID-19 virus.
IMPORTANT INFORMATION:
We bird in all weather. Be sure to check the forecast in advance and dress in layers appropriate for prevailing weather conditions. The weather in Cape May can differ considerably from nearby inland areas and may be warmer, colder, or windier so it's best to be over prepared. We may have to bird in the rain, so please bring your rain gear.
TRANSPORTATION: Please arrive at the appointed time with a full tank of gas, as transportation to field sites is by private vehicles.  We may walk up to 1.5 miles, over generally level, sometimes muddy or sandy terrain. Some trips involve walks over jetties.
CANCELLATION: CMBO programs require a minimum number of registrants to run, five days in advance of the start of the tour, but are seldom cancelled. If we do cancel, due to lack of participation, severe weather, or unforeseen circumstances, we notify all participants in advance and all are eligible for a full credit or refund. Participants may cancel without penalty if greater than 30 days in advance. Cancellations 10 to 30 days in advance may be subject to a 25% service charge. No refunds or credits for cancellations less than ten days in advance unless due to health emergencies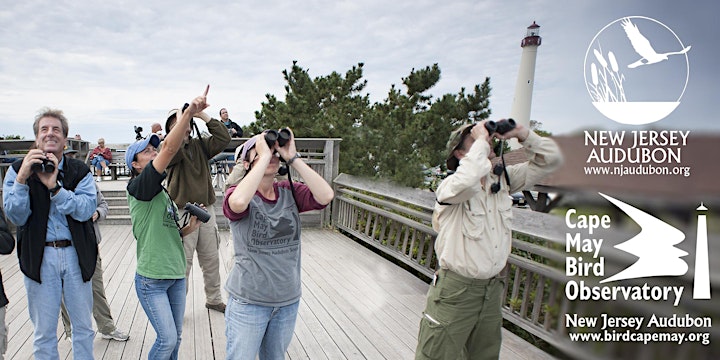 Related Events