Poor Man's Pelagic
March 19 @ 12:30 pm

-

4:30 pm
Join Cape May Bird Observatory Director Brett Ewald and CMBO Naturalists aboard the Cape May Lewes Ferry to bird the Delaware Bay! If you've never plucked up the courage to go out on the wild blue ocean in search of elusive seabirds, here's a chance to do the next best thing. While we can't promise you views of shearwaters and murres, crossings on the Cape May-Lewes Ferry at this time of year regularly produce great views of Northern Gannets, Red-throated Loons and a host of different sea ducks, especially the three scoter species. Cormorants, gulls, terns and even some herons and egrets regularly cross the Delaware Bay at this time of year too and there is always the possibility of finding something unexpected. If time allows, we may also bird the jetty near the ferry terminal for the chance of Purple Sandpiper and other shorebirds, gulls and terns.
We'll travel on the 1:00pm ferry and return on the 2:45am boat. PHOTO I.D. WILL BE REQUIRED.
Masks are required to enter any indoor space on the ferry. For the latest information on the Cape May Lewes Ferry Covid 19 guidelines, please visit: Cape May-Lewes Ferry Travel and COVID-19
PREREGISTRATION REQUIRED
COST: $30 members, $40 nonmembers.
Interested in becoming a member? Please click on the following link to learn more or join: Become a Member today!
NEW JERSEY AUDUBON'S PROGRAM GUIDELINES: All NJ counties are considered medium to low COVID-19 community levels.  New Jersey Audubon highly recommends that anyone who is not fully vaccinated, wants additional protection, or comes from a higher community level area should consider wearing a mask and social distancing, especially indoors.  Please do not come to a program if you are sick, have a sick family member or have reason to believe you may have been exposed to the COVID-19 virus.
IMPORTANT INFORMATION:
We bird in all weather. Be sure to check the forecast in advance and dress in layers appropriate for prevailing weather conditions. The weather in Cape May can differ considerably from nearby inland areas and may be warmer, colder, or windier so it's best to be over prepared. We may have to bird in the rain, so please bring your rain gear.
ACCOMMODATIONS: For those of you traveling from further afield and looking for somewhere to stay, please take a look at our list of Business Supporters of the Cape May Bird Observatory below:
Cape May is a popular place, so we suggest making reservations as early as possible. Accommodations are the responsibility of participants and are not included in the price.
CANCELLATION: CMBO programs require a minimum number of registrants to run, five days in advance of the start of the tour but are seldom cancelled. If we do cancel, due to lack of participation, severe weather, or unforeseen circumstances, we notify all participants in advance, and all are eligible for a full credit or refund. Participants may cancel without penalty if greater than 30 days in advance. Cancellations 10 to 30 days in advance may be subject to a 25% service charge. No refunds or credits for cancellations less than ten days in advance unless due to health emergencies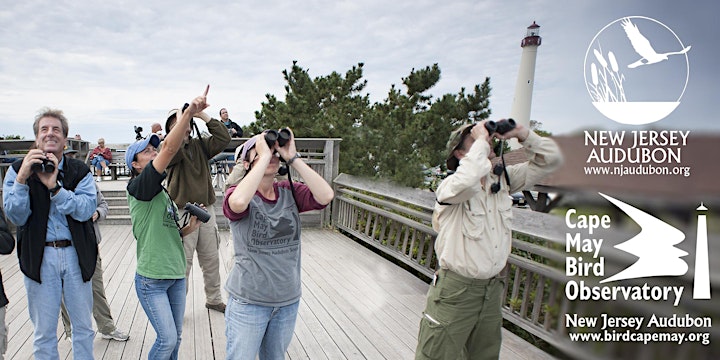 Related Events