Raptor Migration at its Best
October 10, 2020 @ 8:00 am

-

October 11, 2020 @ 4:00 pm
Join CMBO Director Brett Ewald for this two-day workshop. Bird the "raptor capital of North America" at the peak of diversity, when falcons are zipping along the dunes, accipiters are flap, flap, flapping by, buteos are soaring overhead, and eagles are chasing Ospreys. Early October often produces flights in the thousands and is the peak time for Peregrine Falcons and others. It is a rare moment during October in Cape May when raptors are not in view and this concentration of birds should ensure that we almost always have something to look at. Learn how to tell buteos from accipiters, falcons from eagles, at the very edge of your eyesight or right overhead, and focus on tricky species-pairs, such as the many ways to tell Sharp-shinned from Cooper's Hawks. We'll visit several areas around Cape May to make the most of your raptor watching on this "in the field" workshop. We'll also be in a prime location to enjoy other migrants, such as shorebirds, late warblers, early sparrows, and more!
Because of the inherent dynamic nature of birding, we do not pre-set an exact itinerary but will visit those parts of Cape May County that regularly hold good numbers of birds. Final location decisions will be made by the leader based on local knowledge and conditions at the time. We may walk up to 1.5 miles, over generally level, sometimes muddy or sandy terrain.
COST: $150 members, $200 nonmembers.
NEW JERSEY AUDUBON'S PROGRAM GUIDELINES:
New Jersey Audubon field trips and programs adhere to CDC guidelines; leaders have the right to ask a participant to leave the program if someone is not adhering to these guidelines for the health and safety of all. Leaders and participants must wear face coverings throughout the program and maintain social distancing (at least 6' of separation). Leaders may remove their face covering in order to be heard by the group while maintaining social distance. Please do not come to a program if you are sick or have a sick family member. There will be no sharing of equipment including binoculars or spotting scopes.
***If you have spent time in a state that appears on New Jersey's Travel Advisories, we request that you do not attend the program and will provide a full refund.***
TRANSPORTATION: Please arrive at the appointed time with a full tank of gas, as transportation to field sites is by private vehicles.  We may walk up to 1.5 miles, over generally level, sometimes muddy or sandy terrain. Some trips involve walks over jetties.
CANCELLATION: CMBO programs require a minimum number of registrants to run, five days in advance of the start of the tour, but are seldom cancelled. If we do cancel, due to lack of participation, severe weather, or unforeseen circumstances,we notify all participants in advance and all are eligible for a full credit or refund. Participants may cancel without penalty if greater than 30 days in advance. Cancellations 10 to 30 days in advance may be subject to a 25% service charge. No refunds or credits for cancellations less than ten days in advance unless due to health emergencies
TICKETS MAY BE PURCHASED BELOW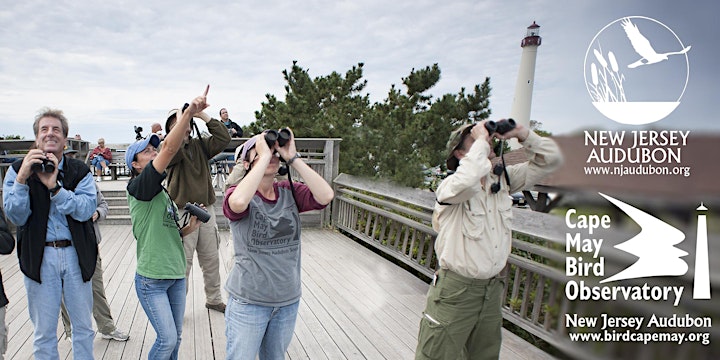 Related Events