BioBlitz at CMBO's Center for Research and Education
September 15, 2022 @ 8:30 am

-

4:00 pm
Join CMBO Naturalists and staff, along with local wildlife experts as we work to uncover and identify the variety of species that call our Center for Research and Education (CRE) home! How will we be doing this? By organizing a BioBlitz! A BioBlitz is an organized effort to catalogue all living organisms in a specified location over a set period of time. We encourage anyone that would like to participate in this event to stop by CRE at anytime between 8:30am to 4:00pm and be sure to check out the special programs we have scheduled throughout the day!
COST: FREE
Special Program Schedule is listed below – the programs are free, but pre-registration is required – space is limited.
9:00am to 10:30am – Introduction to BioBlitz-ing
Cost: FREE – PREREGISTRATION REQUIRED
Join two of our CMBO Naturalists, Kathy & Roger Horn, to learn the basics of how to participate in this year's BioBlitz, along with the variety of identification tools available at your fingertips! The first part of this program will begin with a presentation about the BioBlitz and how to participate. The second part of the program will be an interactive trail walk where participants will be able to put all of their new identification skills to the test!
11:00am to 12:00pm – Gardening for Wildlife
Cost: FREE – PREREGISTRATION REQUIRED
Want to learn about the benefits of turning your backyard into a healthy habitat for native wildlife? Attend our Gardening for Wildlife talk to gain a better understanding of how you can transform your backyard into a heaven for native species! Additionally, we'll be discussing how you can utilize the National Wildlife Federation to get your property listed as a Certified Wildlife Habitat.
1:00pm to 1:45pm – Monarch Tagging Demo
Cost: FREE – PREREGISTRATION REQUIRED
Join the Monarch Monitoring Project team and learn about the Monarch butterflies that migrate through Cape May. After the talk, watch as small tags are affixed to Monarchs to track their migration. You'll learn how you can help with Monarch conservation!
2:30pm to 3:30pm – Introduction to Conservation Assistance Programs
Cost: FREE – PREREGISTRATION REQUIRED
New Jersey Audubon's Stewardship Department works with landowners and farmers throughout the state to implement best management practices for soil, water, and wildlife conservation. In this introductory program, learn about financial and technical assistance programs available in the area to help protect natural resources on working lands. Applications will be available on site, with the opportunity to consult with stewardship staff and conservation planners about potential restoration and conservation projects on your land. This interactive session is conveniently scheduled just weeks before the Fall 2022 application deadline for federal and local programs. Visit with us to see if you would qualify and apply!
8:00pm to 10:00pm – Mothing with Sam Galick
Cost: FREE – PREREGISTRATION REQUIRED
Join local moth expert, Sam Galick, as we work to add as many moth species to our BioBlitz list as possible! Using a mercury light, we will be able to get a close look at the wide variety of local moth species that call CRE home.
NEW JERSEY AUDUBON'S PROGRAM GUIDELINES: New Jersey counties are varied in their COVID-19 community transmission rates.  New Jersey Audubon highly recommends that anyone who is not fully vaccinated or who wants additional protection should consider wearing a mask and social distancing, especially indoors.  Please do not come to a program if you are sick, have a sick family member or have reason to believe you may have been exposed to the COVID-19 virus.
CANCELLATION: NJ Audubon's CMBO programs are virtually never cancelled. If we cancel, due to lack of participation, severe weather, or unforeseen circumstances, all participants will be notified as soon as possible and are eligible for a full refund. Participants may cancel without penalty if greater than 48 hours in advance. Sorry, no refund for cancellations less than 48 hours in advance unless due to health emergencies; however, registrations can be transferred to another program in the future.
We reserve the right to substitute leaders if necessary, though this rarely happens.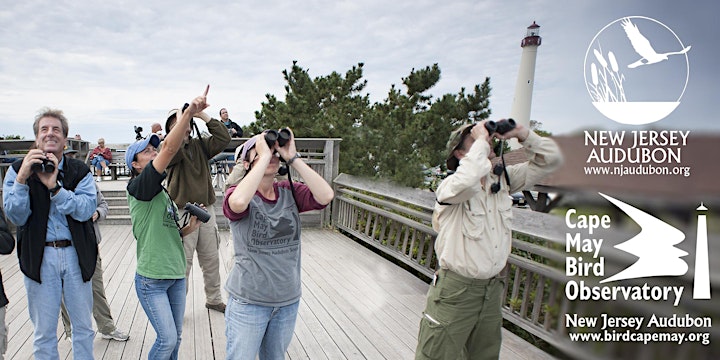 Related Events