Birding Cape May Point
February 25 @ 8:00 am

-

10:00 am
Join CMBO naturalists for 2 hours of birding around beautiful Cape May Point! Crossbills, siskins, redpolls – oh, my! Winter can be such a special time to bird Cape May Point. Each week we'll scour the Park or wander the streets to see what avian visitors are calling Cape May Point their winter home. The winter finch prediction sounds promising, the ponds are full of ducks, and loons and scoters are on the move. Our path may take us through the quiet streets of Cape May Point, visiting local feeders. Or maybe we'll travel along the dunes to check the morning flight line. Lily Lake and the Northwood Center often hold wintering songbirds and, of course, the State Park is always good.
So let us add some joy to your winter – join us every Saturday for 2 hours of birding around Cape May Point.
PREREGISTRATION REQUIRED.
COST: $8 members, $12 nonmembers.
Interested in becoming a member? Please click on the following link to learn more or join: Become a Member today!
IMPORTANT INFORMATION: 
We bird in all weather. Be sure to check the forecast in advance and dress in layers appropriate for prevailing weather conditions. The weather in Cape May can differ considerably from nearby inland areas and may be warmer, colder, or windier so it's best to be over prepared. We may have to bird in the rain, so please bring your rain gear.
TRANSPORTATION: We may walk up to 1.5 miles, over generally level, sometimes muddy or sandy terrain. Some trips involve walks over jetties.
CANCELLATION: NJ Audubon's CMBO programs are virtually never cancelled. If we cancel, due to lack of participation, severe weather, or unforeseen circumstances, all participants will be notified as soon as possible and are eligible for a full refund. Participants may cancel without penalty if greater than 48 hours in advance. Sorry, no refund for cancellations less than 48 hours in advance unless due to health emergencies; however, registrations can be transferred to another program in the future.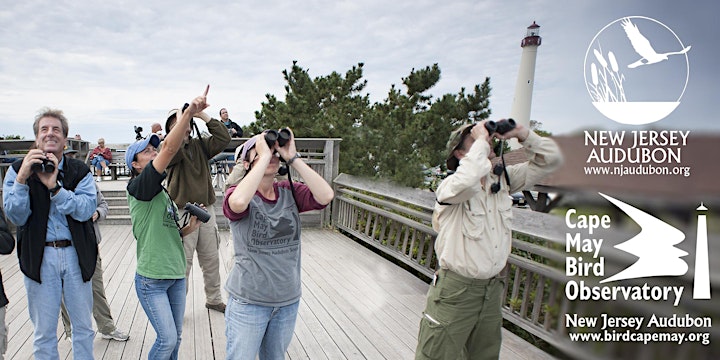 Related Events