Shorebirds with the Man Who Wrote the Book
August 16 @ 7:30 am

-

August 17 @ 4:00 pm
Spend two days experiencing some of the east coast's best shorebirding with Michael O'Brien, one of the authors of "The Shorebird Guide"! The Shorebird Guide, Houghton Mifflin's landmark title on the subject, is authored by three Cape May birders and your guide for this workshop is one of them. Experience the best shorebirding on the East Coast with Michael O'Brien, equal parts skilled birder, expert guide and superb teacher. We'll search South Jersey's best shorebird locations in search of sandpipers, plovers, yellowlegs, and hope to find a few other gems such as phalaropes or godwits. Over 25 plover and sandpiper species are within reach, and some species number in the thousands here at this time of year. Begin learning identification by size, shape, behavior and voice, then move on to careful examination of plumage details, as The Shorebird Guide outlines.
We don't pre-set an itinerary but will visit those parts of Cape May County that regularly hold good numbers of birds at this time of year. Final location decisions will be made by the leader, based on local knowledge and conditions at the time. We may walk up to 1.5 miles, over generally level, sometimes muddy or sandy terrain. This workshop may also include an indoor session, depending on weather and birds on the day.
PREREGISTRATION REQUIRED
COST: $150 members, $200 nonmembers.
Interested in becoming a member? Please click on the following link to learn more or join: Become a Member today!
We bird in all weather. Be sure to check the forecast in advance and dress in layers appropriate for prevailing weather conditions. The weather in Cape May can differ considerably from nearby inland areas and may be warmer, colder, or windier so it's best to be over prepared. We may have to bird in the rain, so please bring your rain gear.
TRANSPORTATION: Please arrive at the appointed time with a full tank of gas, as transportation to field sites is by private vehicles.  We may walk up to 1.5 miles, over generally level, sometimes muddy or sandy terrain. Some trips involve walks over jetties.
CANCELLATION: CMBO programs require a minimum number of registrants to run, five days in advance of the start of the tour but are seldom cancelled. If we do cancel, due to lack of participation, severe weather, or unforeseen circumstances, we notify all participants in advance, and all are eligible for a full credit or refund. Participants may cancel without penalty if greater than 30 days in advance. Cancellations 10 to 30 days in advance may be subject to a 25% service charge. No refunds or credits for cancellations less than ten days in advance unless due to health emergencies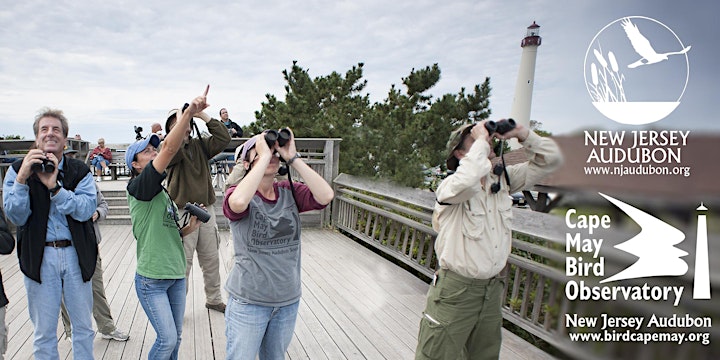 Related Events