Fall Migration at Cape May
September 9 @ 7:00 am

-

September 11 @ 4:00 pm
Join Louise Zemaitis for this three-day birding workshop exploring Cape May's September bird migration! September straddles the migratory timetable – not too late for shorebirds, not too early for hawks, and right on time for Neotropical songbird migrants. Our time will largely be spent getting to know the great wealth of warblers, flycatchers, vireos and other migratory songbirds that pause at Cape May during their southward migration at this time of year. This migration is very much weather-dependent, so there are no guarantees on what we may see, but it is pretty certain that each day will be very different to the last, creating a wonderful atmosphere of intrigue and an element of the unknown. While songbirds will be a major focus for us, we shall also spend time sampling the shorebirds, seabirds and raptors that also pass through at this time.
Most of the three days will be spent outdoors, learning directly from our field experiences and much of our time will most likely be spent at some of Cape May's key migration locations. We don't pre-set an itinerary, but will visit those parts of Cape May County that regularly hold good numbers of birds at this time of year. Final location decisions will be made by the leader, based on local knowledge and conditions at the time. We may walk up to 1.5 miles, over generally level, sometimes muddy or sandy terrain.
PREREGISTRATION REQUIRED
COST: $225 members, $300 nonmembers.
Interested in becoming a member? Please click on the following link to learn more or join: Become a Member today!
We bird in all weather. Be sure to check the forecast in advance and dress in layers appropriate for prevailing weather conditions. The weather in Cape May can differ considerably from nearby inland areas and may be warmer, colder, or windier so it's best to be over prepared. We may have to bird in the rain, so please bring your rain gear.
TRANSPORTATION: Please arrive at the appointed time with a full tank of gas, as transportation to field sites is by private vehicles.  We may walk up to 1.5 miles, over generally level, sometimes muddy or sandy terrain. Some trips involve walks over jetties.
ACCOMMODATIONS: For those of you traveling from further afield and looking for somewhere to stay, please take a look at our list of Business Supporters of the Cape May Bird Observatory below:
Cape May is a popular place, so we suggest making reservations as early as possible. Accommodations are the responsibility of participants and are not included in the price.
NEW JERSEY AUDUBON'S PROGRAM GUIDELINES: New Jersey counties are varied in their COVID-19 community transmission rates.  New Jersey Audubon highly recommends that anyone who is not fully vaccinated or who wants additional protection should consider wearing a mask and social distancing, especially indoors.  Please do not come to a program if you are sick, have a sick family member or have reason to believe you may have been exposed to the COVID-19 virus.
CANCELLATION: CMBO programs require a minimum number of registrants to run, five days in advance of the start of the tour but are seldom cancelled. If we do cancel, due to lack of participation, severe weather, or unforeseen circumstances, we notify all participants in advance, and all are eligible for a full credit or refund. Participants may cancel without penalty if greater than 30 days in advance. Cancellations 10 to 30 days in advance may be subject to a 25% service charge. No refunds or credits for cancellations less than ten days in advance unless due to health emergencies.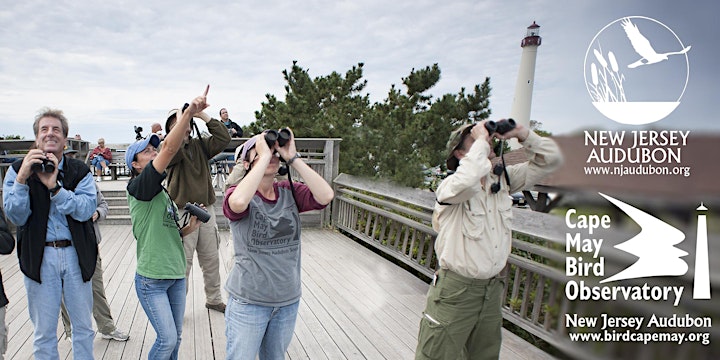 Related Events